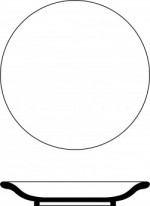 Designer: Vincenzo D'Alba
Description:
Each dish is handmade following traditional ceramic craft tecniques. Single work signed by the author and produced in a limited edition (312).
The black surface creates a spatial depth where the window design becomes absolute and mystic. An ideal moment to connect the culinary creations to the sign and art.
Support us!
If you like this site please help and make click on Like Facebook button!